This post has been compensated by Collective Bias, Inc. and AcneFree. All opinions are mine alone. #Ad #AcneFreeSummer #CollectiveBias
Hi friends!
Summer is finally here! Summer is the most crucial season for having body confidence and feeling beautiful in your skin. It's the season for vacations, soaking up the sun and hanging out with friends. The warm temperatures call for shorts and swimsuits making it especially important to feel confident! For me, it's been a long journey to body confidence and I don't think it's ever a permanent destination. Instead, I see it as something that needs to be practiced often!
Here are 5 tips to help you create your own body confidence this summer:
1. Take care of your body, inside and out.
Eating healthier and exercising to gain strength and endurance will help you feel confident for every summer activity!
2. Don't obsess over your perceived flaws.
Live in the present moment and enjoy the time you're spending with friends and family. Don't obsess on negative thoughts, just let them come and go.
3. Don't compare yourself to others.
This one might be the most difficult for me! It's very easy to look around at others in their bikinis and wonder if you add up. However, comparison only creates negative thoughts towards yourself and others.
4. Work to develop an inner voice that celebrates all unique beauty.
Challenge yourself to appreciate all of the unique beauty that's around you, including your own!
5. Make time for self-care in your daily routine.
Creating a self-care routine that helps you look and feel your best is incredibly important! My skin has looked so much clearer since I've made time in my daily routine to care for it. Taking care of my skin has made me feel more confident. I go bare-faced quite often in warmer months and it's so nice not having to worry about breakouts!
I've found the AcneFree line to be the perfect addition to my skincare routine. It fits my budget and I buy the products at Walmart and on Amazon.com! They've been great for caring for my acne- prone skin.
I don't like any of my beauty routines to be too lengthy. With the AcneFree Sensitive Skin 24 Hour Acne Clearing System and the AcneFree Maximum Strength Terminator 10 that I use, my summer skincare routine is only 4 steps!
Step 1: Cleanse
The AcneFree Corrective Acne Cleanser deep-cleans and removes pore clogging-oil and impurities. It fights acne with Salicylic Acid (1.5%) and it soothes with botanical extracts. It's gentle enough to use twice a day!
Step 2: Tone
The AcneFree Alcohol-Free Acne Toner removes dead skin cells with natural fruit extracts. It helps to calm and balance skin tone. It has an anti-redness formula that's gentle enough for sensitive skin. I use this twice a day after I cleanse.
Step 3: Hydrate
I hydrate with the AcneFree Hydrating Acne Repair Lotion + Spot Treatment. This lotion provides 24 hour continuous breakout control. I use it twice a day after I tone. It contains Micro-Benzoyl Peroxide to help eliminate acne bacteria.
Step 4: Spot Treat
I use the AcneFree Maximum Strength Terminator 10 to spot treat my acne. It contains micro-sized benzoyl peroxide that works fast to deeply penetrate pores. It also contains a redness control formula featuring Chamomile, Ginger and Sea Whip Extracts to soothe and reduce redness and irritation!
One of my favorite things about this line is how well it works on body acne. You can use all 4 of the products on your chest and back. Sometimes I get bacne so I do the 4 steps to fight breakouts there as well. I love to throw the AcneFree Hydrating Acne Repair Lotion and the AcneFree Maximum Strength Terminator 10 in my bag for long days at the beach!
You can check out more AcneFree summer inspiration
here
.
Are you looking for an effective, easy-to-follow skincare routine this summer?
Be sure to try out the AcneFree line for yourself!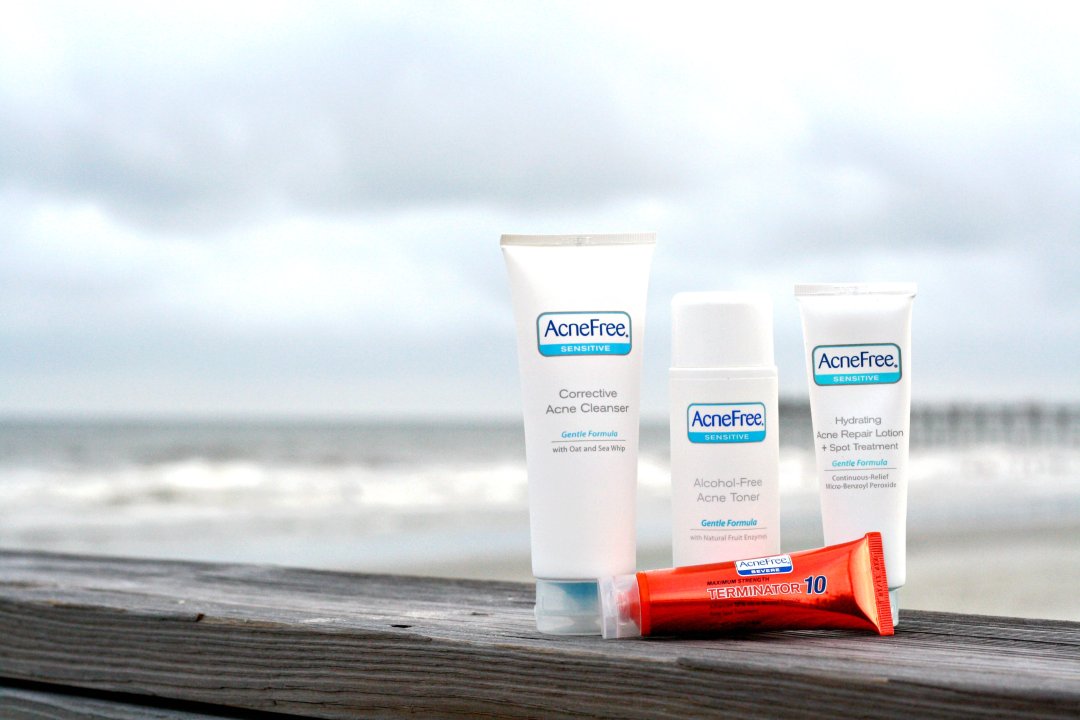 Love,
Christina xx
Find me on:
YOUTUBE
A living hope.
1 Peter 1:3-9